Moved to new category. Awesome project.
Hey guys,
By request of @bsancken and others on this fourm, I've created a UART Splitter (uSplit) for connecting multiple (up to 3) UART based add-on devices to VESC based motor controllers. The uSplit acts as a middle man between theconnected devices and the ESC, allowing each of them to talk to the ESC as if it is the only one connected.
Legacy info

TYPES:

There are two types currenlty in the works. The two way splitter allows 2 devices to share a single UART port of a VESC based ESC. LEDs on the back of the splitter indicate when communication is taking place on any of the 3 UART ports.

The three way splitter allows 3 devices to share a single UART port of a VESC based ESC. LEDs on the top of the splitter indicate when communication is taking place on any of the 4 UART ports.
The uSplit: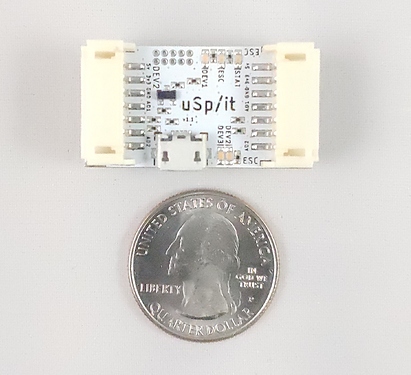 DEMOS:
TESTED DEVICES AND FEATURES:
These are the ESCs and devices I know have been tested by myself or a customer.The list is not exhaustive, but meant to provide insight into the possible uses of the uSplit.
ESCs:
FOCbox
VESC 6 (MKIII & IV)
Dual FSESC6.6
Dual FSESC4.2
Go-FOC Retro
ADD-ONs:
INABILITYS:
The uSplit is not recommended to be used with UART based remotes that send throttle command over UART. This is typically referred to as operating in "UART ONLY" mode. If the remote receiver has a PWM output for throttle, but receives telemetry through UART (like the Flipsky VX1) then it is safe to use with the uSplit.
The uSplit struggles with CAN forwarded messages. This means, if you have a smart BMS connected to your ESC through CAN and a UART device that checks the battery status through UART, then it is very possible to run into communication issues. This is being worked on but testing is slow due to my limited resources.
Original thread: UART Splitter for VESC Based ESCs
Sweet. You're here too.
Bookmarked.
Yup I had to follow the crowd

I'll be keeping up with both forums but I expect most activity will start happening over here now.
To ge the this thread on the same page here's the gist of my last two replies:
I ordered the v2 PCBs for the 2 way splitter and the v1 PCBs for the 3 way splitter last night. I should be recieving them mid next week. It will likely take me a week or two to solder them up and test them. Once I am happy with the results, I will begin beta testing. I currently have 7 people waiting to become beta testers. I think I will do between 10 and 15 testers max.
I'm taking suggestions for names for this since all good products need a catchy name and I dont have any currenly

How about USbR ( UART Splitter by Ricco)
I like the look of that. How would you pronounce it? I think the name should also be easily used in conversation.
Well, you could simply call it splitter when takling about it.
Thats true no name is really required when talking about it. I'll wait a little bit to see if any other contenders get thrown into the ring before officially naming it.
Im pretty sure certain someone would be very pleased with "Dave"

As a quick update, my timing has been delayed 1 week so I will likely begin shipping out units for beta testing in the first week of July.
How about calling it "Uriccosplit"? U stands for UART, then your nickname and split for splitter.
How about uSplit. UART-Splitter lol There's no specific piece of hardware with that name when googled and its easy to say while still describing the function.
Or Dan! (No real meaning, just Dave's brother!

)
Also can't wait! I just ran into where I could use these for both my boards now! lol
You know, I never looked into the DAVEga name and just accepted it as what it was. But with your's and @bsancken's suggestions, I wanted to find out what this Dave thing is all about and dove into the old DAVEga posts. I now realize what I've assumed to be a name that stands for something I just couldnt figure out actually means nothing more than people liked Dave

Cool, we've got multiple options now! I'll have to make a poll soon and let the people choose

Unfortunately, due to a family emergency this last weekend, I was not able to complete the updates to the UART Splitter FW in the time frame I wanted. I was going to finished the updates and start shipping units before I leave for vacation tomorrow, but I will not be able to now. I will be back next Tuesday (7/9), will finish up the FW, and will begin shipping the beta kits shortly after.
@Ricco Wish I had known of this project sooner…I have so many things I want to use by UART. My photon, proton or davega, Bluetooth module, extra lighting systems…etc…warn me when I can get my hands on a piece of that in Canada

I know the feeling! My asking for something like this prompted his project lol
@Ricco Good things come eventually, All in due time. Enjoy your vacation!
To bad your on the 'wrong' side of Canada

Managed to sell my soul for these, no firmware yet on em but didn't want to pay to ship 2 seperate packages to Canada!

Guess being on the "wrong side" makes me 20 minutes away from Lacroix and their new nazaré

Ahhh God dammit. Wanna trade?