Hellow everyone!
Since there was limited information about this kit on the internet I wanted to share my experience with this kit, and maybe someone can add some information.
If you look on alibaba you can buy this ''Ifasun dual belt 800w'' kit for only 300$ (380$ including shipping). Friend of mine got it 2 years ago from another chap. Seeing that this kit does the job I bought one for myself aswell. Now here comes the mistery. Why are the kits different? Is there an older version of this kit or different manufacturer that has copied original design?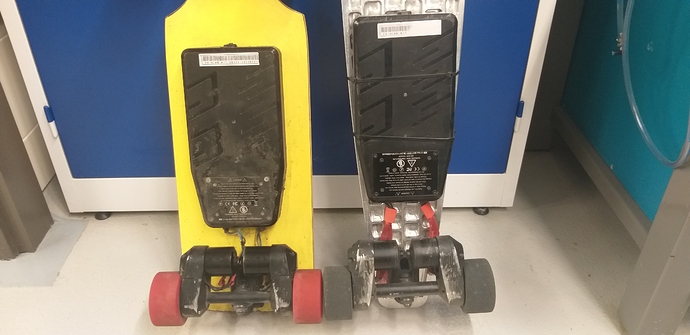 From outside main difference is completely different belt cover design (newer one has two peace cover, old one uses single). There seems to be thicker main shaft of old trucks. However newer one has improved motor mount mounting with welded flange. Wheels are thinner as well on newer kit by 4mm.
Maybe somebody knows more about this manufacturer?
The default setup of this kit is a deathtrap. Original ESC has 1 second delay in response for both acceleration and breaking, both motors and controller overheated a lot and drained battery really fast (barely could ride 6km on full charge). Replaced esc with diyeboard foc esc (was a bit tricky to fit in), and improved things drastically with 17km range on normal ride routine (aggressive ride would give 14ish km's). Ride comfort improved drastically with it as well. So far have rode 200km's with kit. Original wheel bearings failed after 170km's ( they however had really bad rattling after only 30km's). And I had to replace main motor bearings. If anyone's interested I can add info about that as well. In side of good things, rubber bushings had silicon on them, and screws had loctite, motor mounts are pretty solid aswell. So far I have mixed feelings about this kit, looks neat but takes lot of work to get it to run reliably.
Regarding friends kit, his has lasted lot longer without any issues (also has better esc), however it is unknown what things have been changed or modded on his by the chap who originally bought it, ill share info once he upgrades his to dual vesc setup.