Introducing The Challenger
The build thread for my 12th personal Esk8 build!
For those of you who haven't figured it out, yes i love DODGE cars.
Part List
Deck
So, this deck was from China, and cost roughly 40USD with shipping. It's basically a Landyatchz Switchblade 40" Clone. Has an amazing concave, well placed foot wells and a subtle drop.
The graphics were really horrible, so i decided to get rid of it and go for a white/black theme for this build. First, removing the existing graphic with paint remover.
Priming it…
Painting it white. (I used 2 cans of white paint and an entire can of 2K clear coat on this deck. The paint used cost more than the deck itself.
Enclosure
Now comes the enclosure. I've been an avid fan of @Eboosted's enclosures, and just had to use his enclosure for this build. As far as i know, there isn't an enclosure option specifically built for the switchblade that can hold a 12S4P, so I decide to get Alan's 12S universal enclosure to mold around the deck.
Needless to sad, some modifications had to be done, with @Linny's help
Sanding off the existing paint job. Sorry Alan! your paint work is amazing, but this had to be done (:
After hours of sanding and filling…
Bedliner spray, because it honestly looks f*** amazing.
I mean c'mon, look at the texture!
Ok, deck and enclosure complete, now to fit the electronics and the drive system.
Electronics
12S4P 30Qs for the battery, nothing much to be said here honestly. The FocBox Unity simply makes everything too easy. Again, great job @Deodand
Electronics in the enclosure! So satisfying!
Riser Extension
I realized that I'd get wheel bite using such huge wheels on the deck and had to push the wheels out slightly. Solution - Riser extensions!
Printed out the riser and pasted it onto some old scrap AL6061 I had lying around.
Cut-out with an angle grinder.
Drilled the appropriate holes.
Gave it a nice chamfer…
Voila!
Trucks are extended outwards by 4cm, which gives me more than enough clearance!
Avio AT Drive
Onto the last and most exciting part, the drive!
This build was built with the sole purpose of testing out the Avio AT Drive! For those of you who don't know what it is, check it out!

Got the parts manufactured from AL7075-T6 and finished with a black hard anodize.
Set the drive train up with @riverside.rider's Kahua Trucks!
Made another set for the local esk8 crew to test!
Finished with Black Bermeister Wheels!
Specs
Esk8 Porn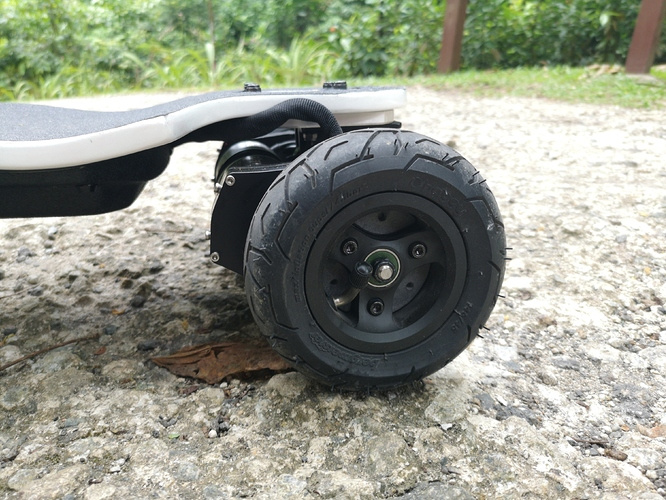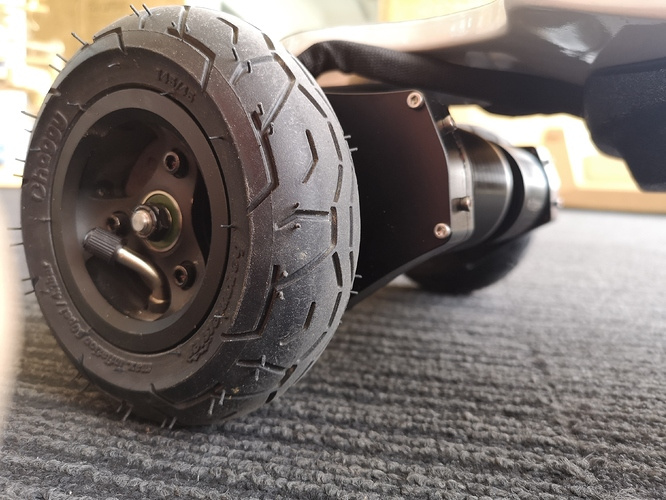 That's all folks!
Update Dec 19':
Installed the MK2 Avio Herringbone Gear Drive.