Last year around this time I started to play around with the idea to build a chain drive quad. Not because I really need it, just because… I can

and for the giggles…
The build process was a long way and the light white

was born during building this quad out of spare parts and parts which just didn´t work for me on the quad.
So let´s get into the build process.
The initial parts list was:
Trampa Holy Pro
Trampa Infinity trucks
Trampa Rachet bindings with heelstraps
Hypa hubs with 8" wheels
Etoxx chain drive Iso06B chains 9/40 gearing
stearing damper
4x APS 6374 170kV
4x ESCape
GT2B Sparkle Mod as remote
4x Hobbyking 5Ah 60C Heavy duty Lipos
Custom 3D printed ESC case
Custom 3D printed battery case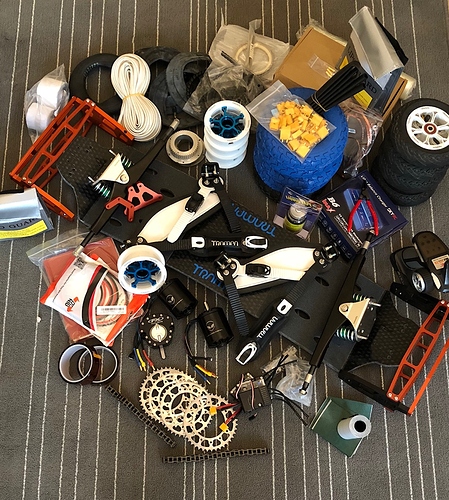 As usual in DIY if you wait for parts they take ages to deliver.
The APS motors which have been on backorder, took 3,5moth to get to me instead of the 6weeks which was stated on the website.
As well as the ESCapes haven´t been ready, so I decided to start with the part I had till the rest came in.
The board already was set up with dual 6384 170kV APS motors
Things I had to do next
• install the steering damper (front or back truck)
• design and 3D print a dual focbox case
• design and 3D print a battery box for the 5ah heavy duty Lipos
• solder split plugs
• solder wires to the Bluetooth modules
• solder all cables with plugs
• solder adapter for motor sensor wires (or maybe I just cut them and directly solder a 2mm HST plug to them)
• 3D print some GT2B mod cases and install the electrics
and waiting the Lipos arriving from the custom clearance…