same like i need em to be dam near 70mm internal width
I will add in some numbers…
Use MEGASTAR25 for 25% discount on all Megastars. Valid till 10/12/2021
Over 500 combinations to choose from.
5 different rims, 3 different spokes, endless colour combinations.
8" centre set
8" off set
8" deep dish
9" offset
9" deep dish
53.5 mm inside width for the 8" version.
63 for the 9".
The 9 " version can also take 8" tires.
I don't think this could have been any more confusing

Are the deep dish 3.75"x2.5" (exactly the same width as phatlads?) megastar 8" always off-set?
Do they only take the skinny bbstars and not the fat ones?
The 8" deep dish is always off set and they can take the skinny BB Star spokes. The only hub taking the big BB Star spoke is the 9" off set.
The new 9" deep dish takes the skinny BB Star spoke, since the spoke needs to drop in further.
If anyone in the EU wants one I could possibly make some too. I have some Prusament CF-PC


Saves astronomical shipping prices from the US.
(Not trying to take any potential buyers from Jack, just want to help those who are in the EU that might be interested

) I'll give Jack some monies for making the file adequate

Don't give me any money, I'm selling these at cost. I didn't make the spacer design so I can't profit off them imo
You'd be doing me a favor by making them in Europe so I don't have to fill out the international shipping form over and over
Not widening but some may be interested, spacer rings to use 9" tires on Rockstar 2s, haven't road tested yet, a few more to print
MBSRimSpacer9.3MF (863.9 KB)
Ahum. I gave him that file. Which Pedro gave me


So Pedro wins
Thanks for the solid works files @mishrasubhransu super helpful
Used those to make some that are 7.8mm wide which allows the hubs to accept an easily accessible 30mm wide bearing spacer. My axle width wouldn't really allow for more than a 10mm spacer, so I figured I'd make it a useful width.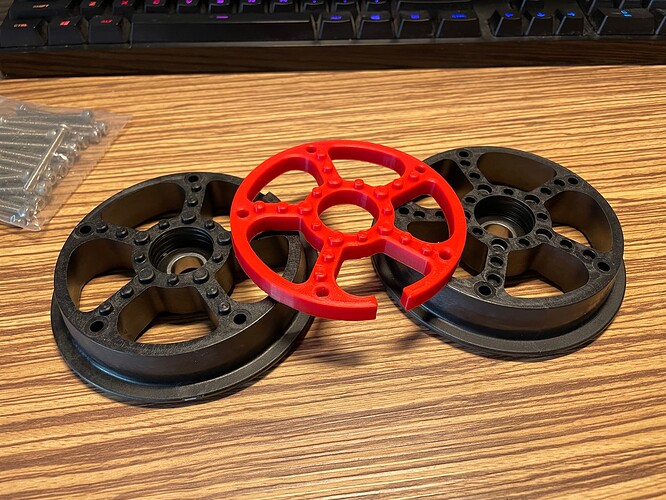 Bearing inside to outside width, -8mm for bearing thickness, so 30mm spacer.
This thread is too long and I can't seem to find if this exists, but is there like a general rule of thumb on how much can you widen a tire?
Can you widen tires that are tubeless? By how much?
This question comes from me buying a citycoco for 90€ in Wallapop (used stuff marketplace) thinking the hub motor/tire combo would be perfect for building a onewheel. Turns out I bought the one with the 18 inch wheel variant, which is massive lmao.
11" 13" are very difficult to find wider that 6'5-7'10 inch and my hub it's 9'5
Do you guys think I can widen the wheel that much? Or do I just clean the bike, repair small imperfections and sell it for like 250€ (no battery)
It really depends on the tire. Probably need to post pictures, but it would only be a guess for us, can't guarantee anything.
Hi, I know this is an old thread but I would love wider MBS wheels…in the above design could you not design the spacer to hold a bearing and not run the outside bearing? Like a trampa style offset?
That's an interesting proposition. Although i wouldn't place a great deal of faith in a 3dp bearing seat. Perhaps if some kind of metal seat were introduced as well

I'm testing 3dp bearings seats (and a lot more) at the moment. Will make a thread about it soon.