Great build! I look forward to seeing the result.
What do you guys think about this kind of series connection. I'm not really sure if the Nickel wire can handle it but i think its no problem for the 12AWG silicone wire. Any sugestions.

I might have to point out that i dont want to add any thickness because of the enclosure height thats why i'm not folding up nickel onto the top of the pack and then soldering onto.
Looks good to me, you might want to keep it a single colour to avoid confusion though.
I'd be more inclined to used wider nickel folded over onto itself
And where exactly would you solder the solicone cable?
I'm building a pack now, will take a photo when i get up to it
Yeah Thanks that would help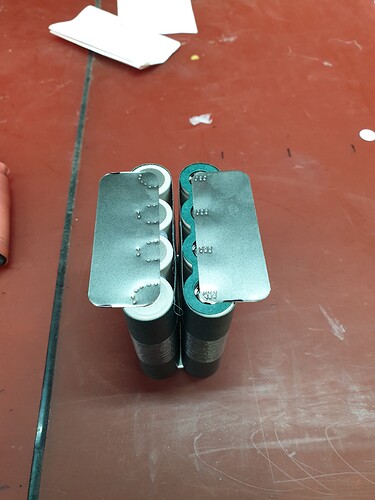 And then just solder in the same spots you have already shown in your photos.
Once you have soldered the connections, you can complete the fold and squash it down flat
Ah Nice dude. Could you send a pic wenn you have the wire on
Sure

This pack only requires one 12awg series connection because it's a reasonably low current pack, but there's no reason you couldn't use 2 in the locations that you pictured
Yeah i'm probably gonna be doing it your way but with two wires. Thanks a lot man✌🏼
Which of these switch orientations do you guys like. Aside eachother other in front of eachother. Also the recktangle will be my battery indicator that sits flush with the carbon plate. I'm still looking for some sleek lights since i dont want anything bullky and big on my board. You guys know something?

Horizontal.
There are some risers with built in lights, but I can't remember the name. Maybe someone else knows. You could build those yourself though, if you have access to a 3d printer.
Yeah i'm probably going to make something like that myself.
1 vote for the vertical button orientation