Overview of Tasks (no particular order)
Intro - inspiration, resources and planing

VESC 6 / VESC Tool Balance APP - testing stuff and figuring out values (maybe a video)

DIY Footsensor - a how (to) I do it (maybe video)

Motor - Open up the phub-141, kV, weight, maybe add Tempsense? Can we change the termination? Also making the onewheel hub and belt drive compatible!

Frame - Mostly some (kinda crude) TIG welding (I "tougt" myself about 3 months ago)

Battery - Batterysystem: I want to quickswap, No BMS and why I do so?

Conclusion - I may never come so far, we will see.
INTRO
Alright, this is a buid in progress or at this point even a build pre progress buildthread about building a DIY Onewheel with the help of the (kinda new) VESC balance APP.
I will use (mostly for simplicity but also because I already have) a VESC 6 for motor/speed control and will basicly only add batteries, the wheel/hub in this case the chinese PeiScooter hub (which are kinda the way to go right now), the footsensor (DIY velostat/copper) and frame (selfmade stainless steel) for this build.
The Redstar from @Jopj inspired me to build my own Oneweel.

After a little bit of lurking in the old forum I found this very helpful thread with various comments, some helpful links and videos about DIY Onewheels.

There are also some standalone buildthreads present, I recommend to check them out if you want to follow the DIY Onewheel rabbithole
Eventhough most buildthreads and also the OW Build Guide are more complicated than they need to be nowadays with their external arduinos, IMUs and other logic (that are not mandatory anymore).
BTW THANKS AT THIS POINT FOR THE EFFORT OF A FEW COMMUNITY MEMBERS, ( so far I only found @NuRxG in the esk8.news forum, feel free to comment or PM me to mention more contributors) we have a build in "balance APP" in the VESC now which simplifies the build quite a bit (without that I wouldn't dare to try my own build)!
There is also the Fungineers YT-Channel which has a DIY OW Playlist that I can recommend to check out.

WHAT I HAVE - November 2019 -
the VESC 6 (260€) and fiddled a bit with the IMU so far
FOR TESTING , some batteries 10S4P the build will probably go later with 10S (12S) 2P Samsung 30T (~100€) maybe quickswapable and a random motors also for testing
some stainless steel (~40€)
velostat sheets (15€)
– tire Maxxis MW 11x6.00-5 + 130 mm kart rim (together 70€)
IN THE MAIL
COST (so far which is most of what I need, except for consumables)
~720 € (+ PeiScooter motor, the 720€ includes tire+rim and APS motor instead)
9 Nov 2019 - Some Progess is made
Most of my stainless steel arrived, I also got the velostat in the mail.
But the biggest progess I had is that I made the first sketches in Fusion. Doing so I scraped basicly 50% of the toughts I made previously.
After chatting in PM with @Fosterqc the idea of a external motor for my Onewheel was growing in my head. But as I ordered the phub-141 already (no shpping info yet btw) I wanted to keep my DIY OW compatible with both, the hub phub-141 and a 6374 making the whole build a bit more complex.
These are my basic plans so far, I will order what I will need in the near future (axle, kart rim, tire: Maxxis MW 11x6.00-5 as the usual Hoosier is expensive AF in Europe)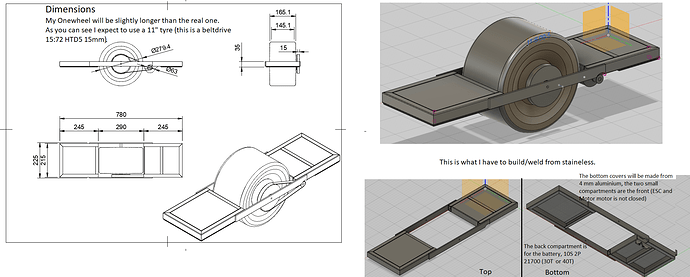 The footsensor, gripplates and anti scratch-nosedive attachments are not sketched yet.