Looking to buy some etoxx adjustable baseplates for MBS Matrix II
Best place is to order from is @NoWind
But you might get lucky

Just hoping to find some, never know what someone has collecting dust.
I think their are very few people who have those just sitting 🫠
Are these the same adjustable plates that work with hypertrucks?
I've seen one picture of them like that. I'm about to try to fit them later today
Let me know how that goes!
I think it works with Hypertruck too, NZ Customer done this and i saw pictures of it, seems to work.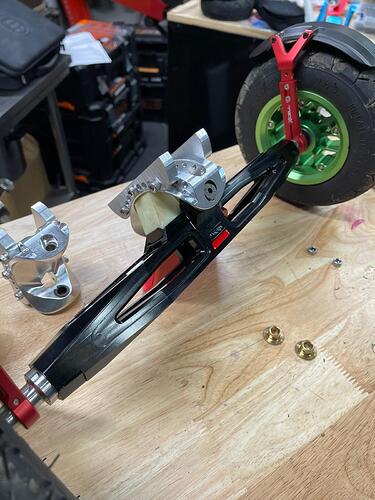 Do you happen to have any made right now?
Same picture I saw. Doesn't look like their using the kingpin bushing which is what I have going on with the 3DServisas fb320

I also measured them up and they are very close in size. Just a tad more narrow.
What you mean?
Talking about bearings?
I think the bearing/bushing we put on is a wise choice.
What your concerns?
Is this a response to me?
Nah i try to understand what this means :
He is "bumping" the topic so it appears higher on the list of threads. (To possibly increase the chance of it selling)
hehe


okaaaay thanks for dont let me die stupid

Yeah, just trying to find a deal on a set of used adjustable base plates. I'm hoping someone has a set they want to sell.
For now I gotta go with wedges until I can afford the bases.
Sorry for the derail but are the Etoxx more narrow? I want to run 63100 with Moons GD's on the Matrix II that I have but when leaning the motors will hit the MBS metal baseplates
Which point on the baseplate are you hitting. I can go measure mine I have all there styles