All items except the GBOMB brackets are taken from this build put together in January this year. Board didn't see much riding due to a combination of health issues/it being my first board and my uncertainty as to what my riding needs would be.
---
Hummie Deck + Single stack Big Ben enclosure.

Deck is routed for 12s4p 40T Battery Capacity (Painted black w/ spraymax 2K finish) and drilled for single stack BigBen fiberglass enclosure (screws and spacers included) from this build - 🖼 Pictures and Nothing Else! - #4405 by Geo_Engineering_FTW underside pic -

£120 £90 + postage SOLD
---
AT & Street Drive Train. 2 x Boardnamics 220 Hangers + 2 x Caliber 2 purple baseplate (44/50 degree) + 2 x Dicky Ho AT (with idlers) and 2 x Street Motor Mounts + 2 x Flipsky Battle Hardened 6374 170kv Motors (with extended wires) - will chuck in some belts and motor pully's if interested.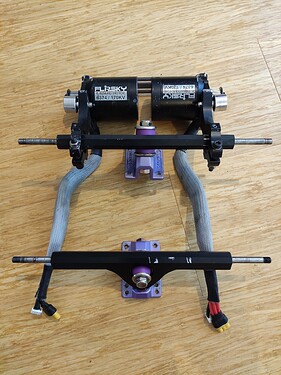 £190 + postage & packaging SOLD
---
Bergmeister hubs, wheel pulley's (2 x 55T Original Berg Pullys' and 3 x 60T 3d Printed Pulley's), haggy inner tubes and tyres. 4 original Bergmeister hubs, 6 brand new/unused Bergmeister tyres, 5 used/slightly worn Berg tyres (perfectly useable), 18 haggy inner tubes, set of anti-puncture spacers (to fix the puncture issues known on this setup).

One of the Pulley's is chipped - i bought them with this blemish - and they have ridden perfect the whole time ive had them despite this.
Package includes 3 x 60T 3d printed pulleys in addition to the 2 x Berg 55T pulleys.
£150 + P&P SOLD
---
GBOMB Brackets set. Standard Drop Down and Super Duper Fork. Saddest of all to sell these brand new/never used Gbomb brackets. Bought for a build inspired by this, which never happened for various reasons.
£180 + postage & packaging £160 + P&P SOLD
---