Batteries are heavy, the print will fail along print lines. I would suggest skinning with fiberglass and resin
Thanks for the advice brother.
It looks really nice though, good attention to detail
Board mount battery for the win
i mean it's the only right answer, the other is just wrong
Velcro the battery and voila
If he's going to work with fiberglass, might as well use the 3d printed part as a mold, or just fix everything to the deck and use a printed enclosure
Ymmv, but I have been rocking petg printed enclosures without any issues. One with the batteries attached with 15lb mounting tape and the other with the enclosure holding everything.
yeah I think it will hold up, my only concern is that since I don't have a 50cmx50cm printing bed I need to print this in two parts, and if you see the parting line in the middle at the lower part when the board flexes it may infringe so much stress and make it snap.
Mount the battery directly onto the deck of the board, and then make the enclosure just protect it (this way the enclosure isn't holding any weight and is just protecting everything
Not my idea, I was clarifying what @TheRef was saying
You should get a sheet of ABS then strap the battery to it. Then, use a lot of velcro between the deck and the sheet of ABS. Now, when you remove the battery, the force is on the ABS instead of the cells/pouch.
Modular battery tray!
My enclosure is in 5 sections, held up fine
another good way would be to print some of the load bearing parts out of tpu and epoxy them together.
the red braces are tpu and the rest is petg.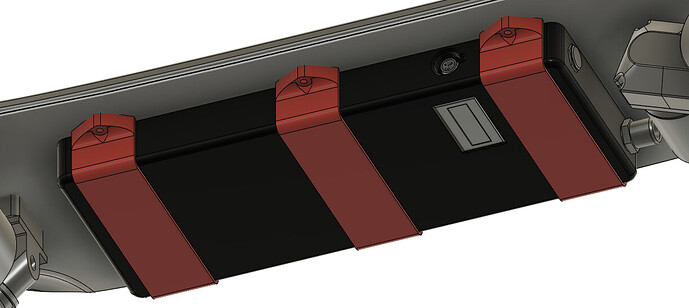 thas actually a good tip, thnaks.
dude how did you put them together? did you just glue them or bolted them? Can you post a picture of the whole assembly on the board?