Hi, I built my first board while researching a mobility startup idea while living in California for 4 months in 2018 (I'm Irish and live in Barcelona).
The resources in the US in terms of parts, forums, makerspaces, etc. was incredible, and was able to explore laser cutting, 3D printing, electronics, woodworking, etc to get the build 99% up and running. And I just waited to get back to Europe on a plane to build out the full 12s4p battery and change my two Focboxes for a Focbox Unity once it became available in 2019. Great experience and community online and in the makerspaces and the boarding community in general.
I had already prototyped a super cheap build, and this was always going to be overkill in terms of cost, weight, power, components, etc. and I at least accomplished the overkill in cost and power!
The boring details:
Loaded Vanguard Flex 2 - board needs no intro, which was why I chose it, went for a long and relatively stiff board to help me as a novice and support the weight of rider/components. Very happy with this work and result even if I was sweating as I dug into the board with a router to hide cables.
Janux ESK8 Midnight Express Drivetrain - Researched several builds, and opted to go with a complete drivetrain from Janux ESK8, had a great interaction with Marc for some follow up spares, and came on super wide trucks, 6374 190kVs dual motors, belt drive, and ABEC 107mm. Even came with nice tensioners for the belts.
12s4p Battery - built by a recommended builder on forums from Belgium. Samsung 30Qs and charge only BMS to fit double enclosures.
Focbox Unity - Originally had two Focboxes setup master/slave, and replaced with Focbox Unity once it became available.
Flipsky VX1 - Originally had the Enertion Nano-X, worked great, but I hated the shape of the controller which doesnt fit in any hand. I broke the charger port, so I recently replaced with a Flipsky VX1. Having scary issues with ghost acceleration signals being sent to the wheels when the controller is idle, so I will need help here.
Other - Finally I made some 3D printed bash guards and pulley motor covers just because. I also lasercut grip tape with a hexagon design to hide two cable runs I made from battery to controller enclosure.
Thanks for reading this far! Here are some build pics - finished build first!
Before first spin in California, really happy with lasercut grip tape and 3d bash guards and motor pulley covers!
At home in Barcelona, with Shredlights and rear light for evening rides.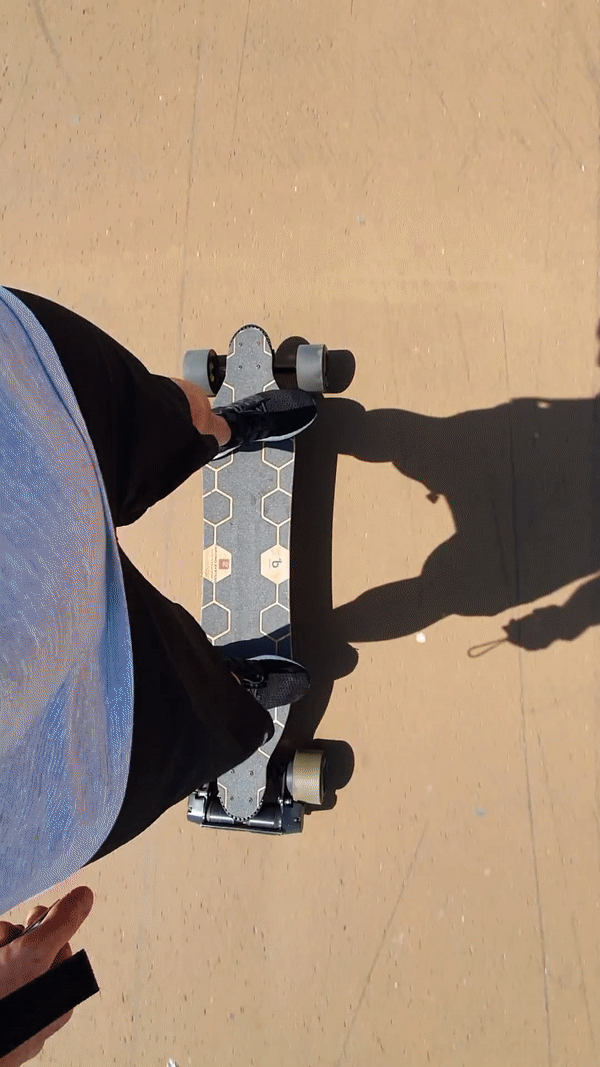 In motion.

Used a wood router to gouge two cable routes between enclosures. Used 12 gauge braided wire for minimal damage to get it flush, and insulated with heatshrink and sealed with epoxy. Grip tape just hides it afterwards.
Embedded some metal threaded dowels for fixing the enclosures. Again mostly hidden by griptape on topside.
Access to professional makerspaces in California helped a lot when it came to electronics.
Lasercut grip tape before and after. Was really nice to be able to leave the bottom and top of the board with a clear lacquer to show off some of the Vanguard details.
Some 3D prints just because I wanted to try it out. Two bashguards and motor pulley covers. (Enclosure is not 3D printed, I ordered them from eboosted).
Happy to share anything I can help with, but I am far from the most experienced here! I have a load of expensive spares such as Focboxes, DieBMS. Will be looking for help shortly with some scary false acceleration signals between my Focbox Unity and Flipsky VX1 remote - quite dangerous so its keeping me off the board until I figure it out. I will put in a separate post.
That's all folks!