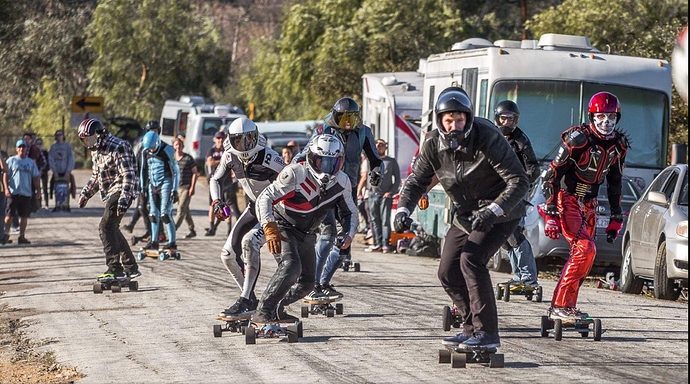 photo Tyler Topping
Details
REQUIREMENTS:
Helmet and Gloves.
Leathers are encouraged and will be required in order to race Pro Luge and Pro Standup!
• $30 to race Pro Luge. ($20 to the podium purse and $10 to Cali Outlaw overall champ).
• $30 to race Pro Standup. ($20 to the podium purse and $10 to Cali Outlaw overall champ).
• $10 Am Standup.
• $10 Women's Standup.
• $10 Women's Luge.
• $10 Groms Standup.
• $20 E Board Uphill Prix
• $5 FreeRiding for anyone not interested in racing. (This cash will go to the shuttle vehicle).
• $20 Gravity Car and In-line classes will be added if there are enough participants.
PROHIBITED:
Chain Maile, Speed Suits, "Ballast", weighted boards, boards with more than 4 wheels, shoe covers, aero kits, body fairings, bad attitudes.
ALSO, NO WRENCHING.
1 set of wheels for the race, start to finish.
EVENT SCHEDULE:
Saturday, March 23rd:
Skate all of the good stuff in the hills around Bakersfield!
Sunday, March 24th:
RACE DAY!
Course: Cal/Bodfish Rd.
On the hill at 8am for registration and practice. Racing begins at 9:30am SHARP.
Once racing is over we'll do podium and skate the rest of the day!
Also Parking Garages Sunday Night at 7pm.
If there are any other concerns, dietary requests from the vegan squad, and/or constructive criticism please feel free to message me and we'll get it cleared up.
Also if you or your company is interested in sponsoring this event please contact me at engelskates@gmail.com
Thank you all and I can't wait to see your shining faces on race day!
https://www.google.com/maps/place/35°16'52.3"N+118°40'36.5"W/@35.281393,-118.6758531,17z?hl=en-US&gl=us
Camping !
https://m.facebook.com/events/969765793221819?view=permalink&id=986998781498520Camping. No camping at the course. Camping will be at Daniel Engals property.
I just found out from Daniel that the rider camp will be at his house. Not on the hill. His house is about 30 minutes from the hill. Can you let the E boarders know so that there is no confusion. I guess there is no camping at the hill.