what the fuck
i just paid nearly 40 dollars for these in the US
Alright guys, use the code Turkeyturds at tomiboiesk8.com when you check out to get 15% off storewide through December 15th.
Na got some custom wheel pulleys from him a few months ago.
Hobbyking has some really good deals today. 50 dollar Turnigy SK8 V2 80A 3~12S Single Motor Skateboard ESC ESC's (based off of vesc 6), 40 dollar 6374 130kv SK8 motors and a lot of other motors and other killer deals. If you are really on a budget there's a dual Turnigy SK8 V2 60A x 2 3~12S Twin Motor Skateboard ESC for 79 bucks that's based off the vesc 4.12. I got four of the SK8 80A ESC's for a go kart build I'm working on
Local sk8 shop that also carries esk8 and they sell online/internationally. having a BF sale.
I already had that VESC in my shopping cart but this is a further discount. I just want a cheap-ish one for a fuck-around (not too serious) build.
Yeah, I was watching it at the $62.50 price but when it dropped to $50 today I had to pull the trigger. Nice they come with all the cables and it also has an integrated button.
For those that would like a starter 3D printer, here's one on sale for $100
Looks like the Meepo racing wheels can be had for $180 with code BF10. Not sure if it's for US only.

I wonder if these have enough meat on them to adapt them to 28mm bearings
We changed our mind about the black friday sale idea.
We will do a big clearance sale to get some place in our stock for some new stuff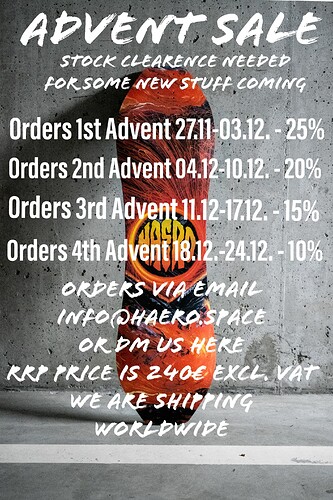 Same discount applies to our limited edition jib deck from legendary AJ Lawson (only 3 left)
RRP excl. VAT is 200€
That's a perfect deck for a lightweight jump deck or a orange street carver

medium flex on this one
We wrote a little blog on the various discounts we are running at the moment with a little blurb on the various products, if you have a few mins check it out
Not sure if this has been shared already… ACTION EMPORIUM is having a sale on TSG Helmets 319$ plus an additional 10% off with code provided by them on their site…
Thuro skate shop Black Friday sale, TSG Pass $299 plus code BFCM for additional 15% off ($270 for helmet)
Just a reminder to people, don't buy the helmet if your regular helmet size is XL. They run small. It won't fit your big ass head. Ask me how I know.
I bought a TSG from them awhile ago. It was clearly used or open boxed. Little dings all over the helemt and missing packaging. Their customer support was cool about it and took care of me but just a heads up.