Hey,
I have an old backfire G2 spare battery (no name chinese cells 10s2p) that was laying on the shelf for a few years (+/- 3.5years), and i decided to try and build something with it.
Miraculously the pack does not seem dead yet (still at 36V and the p groups are well balanced), but for some reason i can't get it to power my esc (maker-x go foc dual).
When i read the voltage before the bms i get 36V, but i get a really low voltage (+/-0.3V) on the main connector, after the bms.
Does anyone has experience with this kind of chinese bms ? Is there some kind of safety handshake between the bms and the esc to get it to deliver power ? I know boosted used to do this, so maybe it's the same here or maybe the bms is just dead.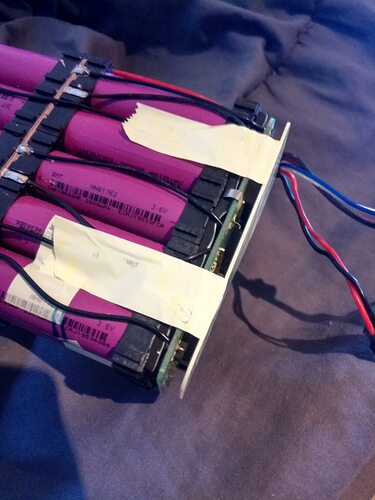 Any idea ?
If nothing works i can still try to bypass the bms, but i'm not sure it's a good idea with those cheap chinese packs.