So I started a build last year and never got around to finishing it, so this year I resigned to get it done before summer. I ordered the final part this week, a battery from LHB and I picked out some paint.
I will begin with the parts list and let you take it all in before I display the progress and work I have done so far.
Parts list:
Hummie deck (1.0) from Hummie
Torque Boards 218mm truck hangers from Dexter
Caliber baseplates, 44/50 split, Riptide pivots
Dual idler motor mounts CNC'd by marcmt88
Box of pullies for gear ratio options made by Kug3lis
350mm long, 15mm wide belts from bbman
All Ceramic wheel and idler bearings from Muirskate
Riptide fat cones BS, barrel RS from Brad (tunning still)
Two Totally Bitchin' 190kv 6355 3100w motors from LongHairBoy
Enertion Unity ESC from Jason and team
custom 43v 645Wh 12S5P Samsung 30q from LongHairBoy
Psychotiller Arc V2 enclosure by Dave
Mad Monkey GT2B remote case mod enclosure by FLATLINEcustoms
Gangster grip on top, Plastadip coated bottom
1st issue was with trying to mount the trucks in the drop through configuration. I wanted to take advantage of the low profile and mounts, but the truck hangers were not afforded enough clearance to actually turn. The hangers impacted the thick deck (3/4inch) and prevented further lean.
In order to solve the problem I could have just top-mounted the trucks but I would have lost the low rider feel which is obtainable with this cutout setup. Instead I decided to try and flush mount the trucks into a routed recess on the top of the deck, giving the hangers another 4mm of clearance and also adding some engineering flare. It worked perfectly, so it's on to painting and assembly.
Flush drop through (sitting loose and not straight)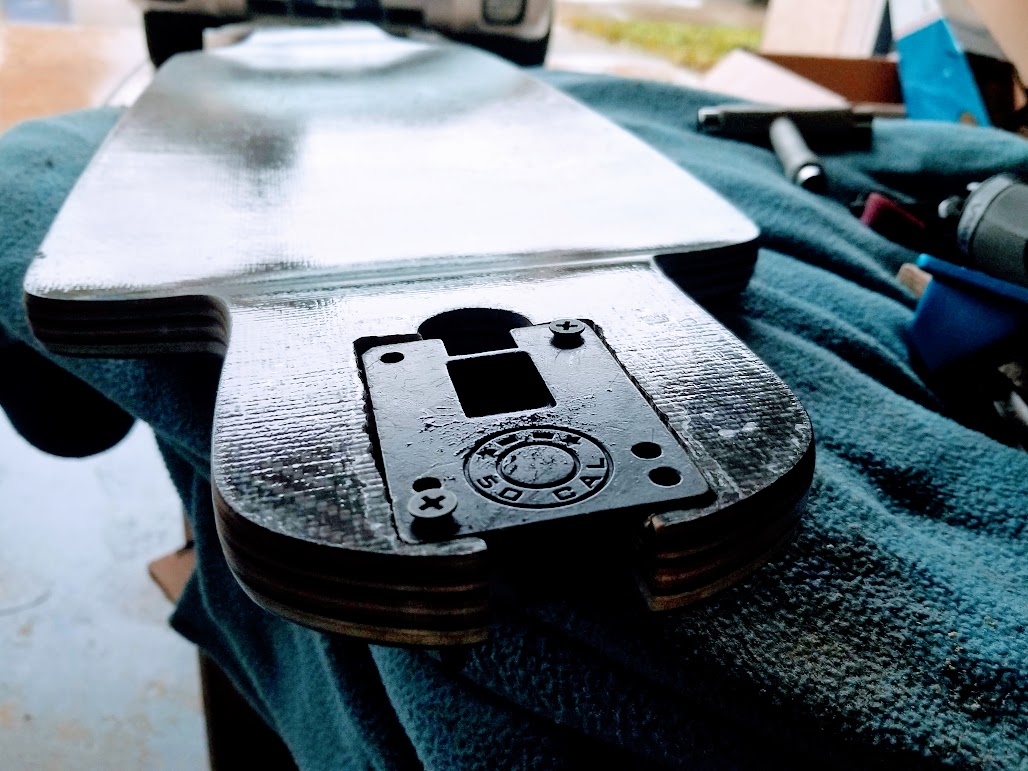 Mock up of this build from last winter.