I thought Prodigy was more your speed.

I'm a Generation Z, I think this explains a lot as I have never listened to one song by prodigy.
I just got why you said that and I'm bout to cry
Well fuck today lol
Everything set up did all my motor detections, few late hiccups but it got done.
I noticed after having both Motors hooked up and doing a bench test that one motor would almost come to a stop instantly when I let go of the throttle while the other free spun a bit.
I did the phase wire resistance test and everything seemed fine.
So I did motor detection again and gave it another bench test.
1 motor instantly started smoking and smells pretty bad.
Soooo let's open these up…
Shit hurts, I probably have 6 marks like that on my hand after cleaning 6 of my Tb motors
Ouch, that looks like it hurt like a bitch
Did you figure out the motor issue?
No idea. Put everything back together.
Just did detection again.
Worked the first time.

Did it a second time just because
There is definitely something wrong with this motor, the resistance value is way too high, should be bellow 20 mOhms
Did you check if the connectors are well soldered?
Yeah they seemed good.
The motors did sit on a shelf for a while after being well used.
If I could I'd run the venom wheels on here. But no pulleys + the black and green 97mm abecs kinda match.
This thing's pretty nice
@klaus79856
The new rear hanger showed up.
Thanks @Saturn_Corp
127mm surfrodz tkp hanger .
It's about the same width as a caliber truck but I have 15mm pulleys running 3 bearings each.
I have room to bring them in just a bit too if needed.
Probably won't be using the boardnamics mounts. Think I'll use my psychotiller ones
Finally some progress.
Front 177mm hanger and 50mm shoulder bolts
Rear 127mm hanger and 80mm shoulder bolts.
Unfortunately the front is slightly narrower than the rear. I don't like that.
So I need to find 60mm shoulder bolts or better yet 55mm for the front.
In total the rear is about a 1/4 of an inch wider than stock caliber trucks but I'm able to run 15mm pulleys with bearings ( 3 bearings in each pulley actually)
I'm pretty happy with how this is going.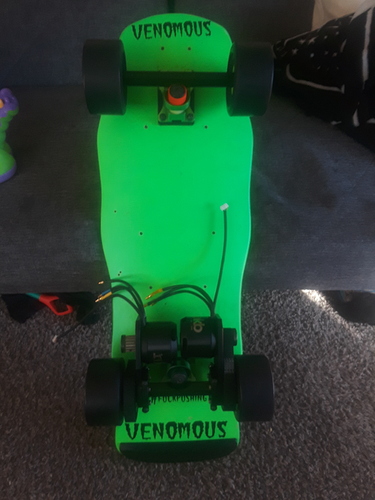 Nothing is bolted down and I gotta patch the holes from the multiple enclosures I've installed plus all the holes from widening the wb when I had rkp and the long riptide enclosure on here.
@Venom121212 also made some dope stickers for me. One of them I put on stupid crooked tho…
I am following this thread for inspiration. I want to do something quite similar only my deck will be 36" long and the kicktail a bit mellower.
Good to know that you can do dual 6355 with 15mm belts on the SR tkp. I was thinking about torqueboards 160mm trucks but will likely go with the SR tkp. I hope they will have a Black Friday sale.
I might also try the Venom Mach1, but still undicided between those or Blue Caguamas.
Waiting for your build to complete and how the TKP feel .