Hey guys,
We're going to be doing another flipsky group buy as the cloudwheel one was kind of ruined by the core issue. Please carefully read all the info below before making a forms response so you won't miss the GB.
UPDATE PLEASE READ
Hey all, just wanted to give an update on this.
The shipping per motor keeps going up. They're in production, but as it stands the price to ship via DHL is as high as $11 per motor (Usually it would be 2-3) up from 8$ in the original price estimate.
The quantity just keeps going up, and we're on track to place an order for more motors than we originally planned for. The antispark quantity has already risen from 30 to 50 and may also keep going up.
Unfortunately, even with these increased quantities the shipping price is going up faster than the economy of scales is taking it down. As of this minute, the price is sitting at approx $65.80/motor.
We can opt for sea/train frieght. This would take a long time, but it cuts shipping costs under half, making the cost about 59.60 per motor. The extended time on this would be an additional 30 days after production has finished (Estimated to be in early June).
Please let me know what you guys want to do. Perhaps we can air freight the antisparks and a few motors (If some want them ASAP) and train freight the others.
Here's all the information you need to know about the group buy in order to make an informed decision as to if you want in
I aim to exactly be able to break even on the price, but its likely it will be ± a few bucks as there are usually some unforeseen costs.
As of now, the cost for a 6374 motor is estimated to be $68, a pulley and keyway should be about $5 and the antispark should be about $34. These prices probably will adjust closer to the time of delivery, so please allow for a small change to them. Flipsky's pulley selection is garbage, and overpriced, so I will investigate other sources.
The group buy will likely be closed on May 25th, however if people are still signing up by that point we can move the deadline a bit further back.
I have the funds to buy everything upfront, so delays due to people dropping out or small differences in cost are unlikely
If you need to drop out before the order date, please DM me.
What we know about the new Flipsky 6374

This group buy will be for 170kv
8mm shaft Or 10mm
shaft keyway'd 6374 motors.
The motors we get will be black, however depending on quantity 10mm may be gold
While its not expected to outperform the existing reliability leaders, the newer flipsky 6374s appear to have
some
epoxy on and inbetween the magnets (Not as much as the maytechs or TB but a certain improvement)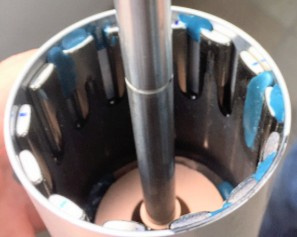 The blue compound is done for balancing
The motors should run up to 80 amps, but further testing would need to be done to confirm the reliability of this. These are probably pretty good,
for the price
.
** What we know about the 2020 Enhanced Antispark **

With a design fixed by
@Gamer43
, the flipsky enhanced 200A antispark has been (for me and a few others) a pretty good antispark switch. It has auto turn on, which is based on sensing a change in the current between your battery and ESC (Meaning you must generate some current from your motors in order to turn it on. If you manage to hold your remote at the exact same position for 20 minutes it will turn its self off, but in practise this is highly improbable) you can read more about it above.
Estimated shipping costs
(All packages arrive usually within 5-6 business days, sooner for the EU and UK. COVID-19 may delay shipping to some countries, as packages to Spain have taken 15 days recently)
Each motor is roughly 900 grams with packaging.
To the UK , Under 2pcs the motors should fit into a royal mail first class delivery, costing £3.10 for second class (First isn't really worth it, you're waiting for thr GB to end anyway). More than 2 motors will need to ship via hermes or DPD, which will cost from £4-7 depending on the number.
To Europe , to almost all places in europe, the shipping will almost always be about £12/13.8e. It'll be via tracked courier, one of DPD (Collissimo), UPS, Parcelforce (GLS) or other. You can check the shipping cost on https://uk.interparcel.com/
To Canada and the US as well as south America and the Caribbean, its likely to be about £25/$30 for any number of motors. If you only want 1, the cost can probably be reduced to about £10 as royal mail prices are okay under 1kg.
To Australia, New Zealand and other remote locations , its very expensive, might not be worth it. Probably over £30 as a flat rate.
Payment methods
You can either pay via:
My store directly if you want to bundle your items with anything else I sell at nexusboards , the listing will be made nearer to the time of buying, I think VISA is accepted via Shopify (VAT Is automatically applied though)
Paypal invoice in USD or GBP
Crypto, as long as its not a shitter altcoin
Cash, if you happen to want to meet me physically in Swansea, UK
Please follow the forms below carefully!
https://forms.gle/uiyLqtDYzhMoyEas6