Holy shit! I'm glad you were not seriously injured!
Like I said in another post, Doug is our best chance at reinventing the wheel.
I'm walking into hurricane season over here. Rains at least once a day. I am willing to crash for science.

Hey Everyone,
I hope you have had a good start to the week and enjoying Juneteenth!
We have crossed a major milestone. The factory in China have completed the first production batch and the quality looks very good. The China team is still packaging the wheels together and doing final inspection, but are scheduled to board a shipping container boat to California this week.
I have a rough timeline of 6-8 weeks for the boat to arrive to at California and then we begin shipping. Some additional delays are related to customs clearance, paying duty and tariff, and some port congestion. Those things can take some time because I am working with third parties and money wire transfers and things like can take some time. Small delays in trying to get wire transfer information and getting wire transfers cleared then releasing the batch can cause multiple day delays. Also the customs division work at their own speed.
Here are some pictures of the wheel halves that are brand new and off the line.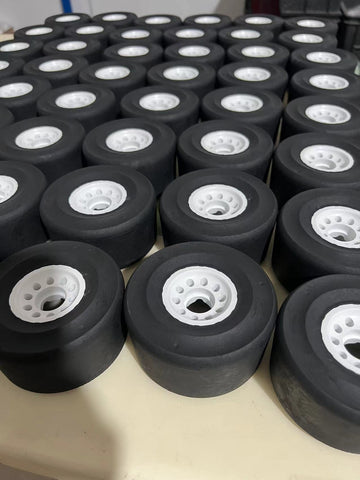 Cost increases coming but not to those that have ordered already
I have been trying my best to keep costs low, but manufacturing costs and the weaker US dollar to Chinese conversion have meant that manufacturing costs have increased 50% from when I first started this project and created the initial price point. As a result, I am forced to increase costs of the wheel by 25% to stay competitive. However, I can't justify to myself to increase them till they are very close to becoming in stock.
As such, once the shipment hit the USA customs port, the wheels will increase in price by 25%. After they hit and pass the port of Long Beach, then usually it is about 1 week longer to get them in stock at my warehouse.
Those that have ordered and order until they pass the the Long Beach port (maybe 4-6 weeks from now) will be able to purchase the wheels at the current price. I will be sending a cost increase email then.
The money will go right back into research and development for other variations of Hollow Wheel, supporting operational costs, and to buying more Hollow Wheel inventory.
New Race Compound Wheel: designed for grip and more predictable sliding
I have been quietly developing another compound of the wheel purpose built for racing purposes. On the left is the new compound (looks more like a tire) and the right is the default compound.
Those that want more grip and more control at the limit of the grip, these wheel are for you. These wheels can have a very high limit of grip, but when they break traction, they are very easy to control and hold a slide.
From testing, they are about 20% more grippy than any compound I have tested and wear quicker a little bit quicker in the pursuit of grip. More grip = more wear. The chemical formula is pretty similar to a race tire, which is why I picked it.
I recently finished durability testing of these wheels and they hold up very well, but I am putting a weight limit on these wheels of 99kg (218 lbs) with rider + board weight.
I'll post more data on these wheels as I finalize all the marketing content. I'll dedicate a post for this. The material cost of these wheels are more expensive than the default compound so the price will be higher for these race Hollow Wheels. Those that want these instead will be grandfathered in and receive a discounted upgrade rate.
Moreover, I have been getting as much feedback as I can about these new wheels too. Here is what Jeffery Peralta thinks about them after some testing.
He was also saying this is more for people that know how to control a board, a more professional use case compound.
Video of Jeff Sliding: Jeff Peralta Testing - Race compound Hollow Wheels - YouTube
One drawback: Bearing requires more force to insert into the race compound core. I am using a different core compound to get good chemical adhesion between the core and the tread so as to not have the delamination issues. As such, the shrinkage of the core material is a little bit more than the other compound used for the standard compound. As such, the bearing hole is a little tighter. However, I am using one mold for two different compound with different shrinkage rates. It isn't ideal and doesn't pose any durability issues, but something to people to know when considering this.
Oh man. I would love to try that race compound!
Id now like to up my order to 3 sets of race compound in white, please and thank you @w@
Ah, I am sorry. All these compounds come in black since they are derived from a rubber.
On other news, I some how forgot to mention the suspension inserts.
They had made corrections to the mold and got the fit correct and then produced a whole bunch.
I'll include this more in detail on the blog post later this week.
Will they still be tunable with metal slugs?
Hey @DeuceDos , yes they will. There are holes in the back
Would love to do a Wh/km comparision with these vs. the verreal 105mm (boosted clones), the range taste video was just a bit too unprecise and unserious for my taste, because I wanna know what the range is with full inserts at max weight vs none, but I'll wait until the stock becomes more available or a EU retailer picks them up

Sorry if this was asked here before already. Is there any option for cheaper shipping to EU? I am ready to wait couple of weeks as long as price stays below 40$

Oh man. Sorry. Not yet.
I am trying to find the time to finalize an EU store with a vendor here @Anubis . I have to pick that back up. Thanks for reminding me.
Yes, you're right. I have to get them on the test rig and do a rolling road simulation and do a comparison.
I'm filming all new content for the official launch (when they are at my warehouse)
If possible, could you go with someone outside of the UK? Since brexit it's just a real hassle to get anything out of the UK, and an expensive one at that.
From the top of my head I could name you @SabreDynamics, based in NL. Obv. I know nothing about your business relations or how hard that might be to set up, so if that's not viable or you already have contracts and whatnot just forget about what I said.
I actually finally moved my own businesses to storage units and set up proper 3pl, I'm still finishing my own move so I haven't shipped for a little while but by the time anything arrives I'll be at full steam again
On a bit of a hiatus, but you're a manufacturing saint dude.
yeah as above, the UK is just as bad as US and China for import taxes to the EU. It's physically closer so it's faster and the shipping itself is cheaper than US but it's not ideal
It's almost double the taxes.
Shipping from UK to all of Europe is nearly double the taxes? I am super novice when it comes to Europe and the taxation structure. I will have to look this up.
Got a set of these on order. Really looking forward to giving them a whirl on some less than stellar Massachusetts roads. Looking for an alternative to the 105 Cloud wheels I'm running currently.