Sharing my AWD evolve,
Evolve DKP, evolve motor
Custom evolve deck
2*unity.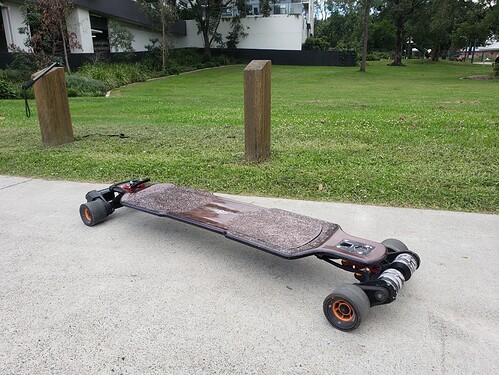 ![20210407_154830|375x500]
polished whole deck by 1200 grits.
also filled out the crack by using chopped carbon fiber and epoxy.
Nice job bro, I've never been a fan of the evolve electronics but that deck turned out nice
some wiring job here,
used 0.2*10mm copper strap as phase wires extender. Each strap can hold continuous 20a.
running front sensorless, back hall sensor.
and it survived!
running smooth, powerful enough for a street board.

NBD!
What did you put between the copper so that it doesn't short over time?
Super nice build I need to get motivated to do something with my carbon.
that is double side thermal conductive tape, it can handle up to 180°, also can spread the heat.
Wow!
Why not go for 3x14awg cables in a cool sleeve?
i would be worried that it would tear and cause a short
it just I have bunch of copper straps left.


, this look more cool, and clean tho.
theoretically, it won't, but let's see.
Nice build.I love that paint you used. Are you running the stock battery pack 10s4p?
How does it handle hills? range, torque, etc…
Where did you get this metal from?
just search 18650 copper straps on Alibaba or Ali Express.
I've done that. I'd love to have the link you used

I was directly purchased it at taobao.


that's why I reckon u have look at Ali Express.
here the link: 6.0嘻uB8WX1knac1, https://m.tb.cn/h.4pWz1us?sm=7c8dfe 0.2MM厚纯紫铜带18650动力电池焊接铜片专用大电流连接片冲孔铜带